The Design Process
The design process starts from your first visit to our showroom, a blueprint or an on-site measure.
The measurements are then entered into our cabinet program.
Next we send you 3D pictures of all your cabinetry by email.
Our friendly and professional staff will help you with your design decisions such as picking door styles, handles, glass, etc...
If required, a final measure is taken and the new measurements are then entered into our cabinet program.
After the design work is complete you will sign off on the floor plans, sign off on the proposal and give a deposit.
The production team will then proceed to build your cabinets.
We use a high precision CNC Machine to cut all the parts.
Cabinets are then finished, assembled and stacked for delivery.
Our manufacturing plant is right here behind our showroom.
We deliver your cabinets to the job site in our own fleet of trucks.
Your cabinets will be installed quickly and professionally by one of our installers. Installing your cabinetry often takes only a single day to complete.
Finally, your counter tops will be templated, delivered and installed in the weeks following your cabinets install date.
Say Cheese!
After all of your cabinets are installed, counter tops are mounted, walls are painted, and everything is order. It would be great if we could come back and take a few pictures.
*With your permission, the photographs will be used on our website, advertising and social media pages like Houzz and Facebook.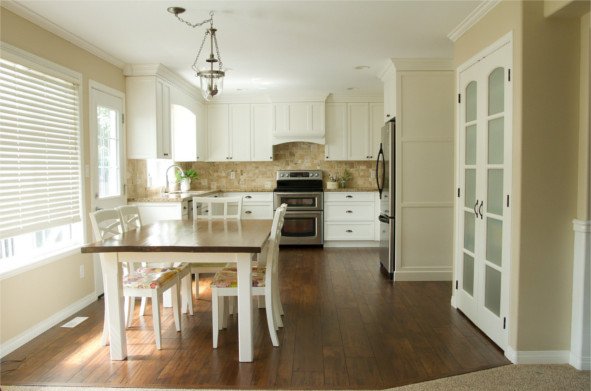 Kitchens
If you came here looking for ideas then you have come to the right place.

The kitchen is where meals are served and everyone in the family is given an opportunity to share their highlight of the day.

Here you will find kitchens we have designed with a wide range of finishes, door styles and room layouts.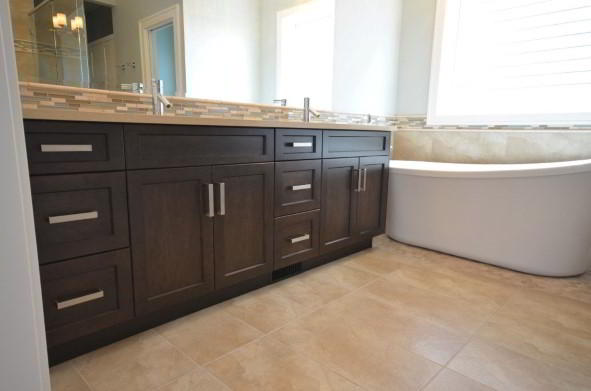 Bathrooms
Do you crumple or fold your toilet paper?

We know it's none of our business as to what you do in there, however, we do know what is... making it a pleasant experience.

Take a look at our vanity photos for ideas. Maybe you will find a better place to hide your toilet paper stash.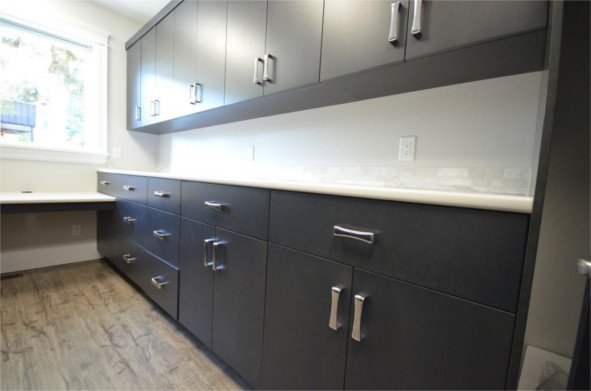 Laundry Rooms
Laundry rooms are a must have for families always on the go.

There are plenty of storage options when it comes to washing, drying and storing your homes must always-be-ready items.

Come take a look at our photos for inspiring ideas! We can design you a laundry room that meets your family's needs.
Showroom
With so many choices available, when it comes to deciding which finish, door style, or handle to choose, we recommend you visit our showroom and ask to speak to one of our knowledgeable sales staff.

We can offer you advice, work with you on meeting your projects budget and suggest helpful ideas that will bring your dream kitchen to life.